Can less ever mean more in the super saloon niche? Two German rivals make a good case
First-order performance saloons have become seriously expensive, haven't they? Even the 'junior' ones. If the near-£75k price of the new M3 Competition has given you pause for thought in that respect, here's some more: you can have an eight-cylinder performance version of the bigger 5-Series – one with a little more power, a lot more torque, four-wheel drive, and faster 0-62mph claim than the M3 – for nearly £4000 less than the full-fat M Division model. Meet the excellent M550i xDrive.
And that isn't the only option for big-budget saloon buyers willing to think just a shade more modestly, and to take one step down the performance hierarchy model ladder, in search of a more usable, real-world-prepared performance option. Mercedes-AMG has, for several years now, been offering a six-cylinder version of its hot E-Class, the E53 4Matic+, which dangles the prospect of the gratifyingly respectable fuel economy of a petrol-electric hybrid to make things even more interesting. Unlike the BMW, it can be had in extra-practical estate form, too.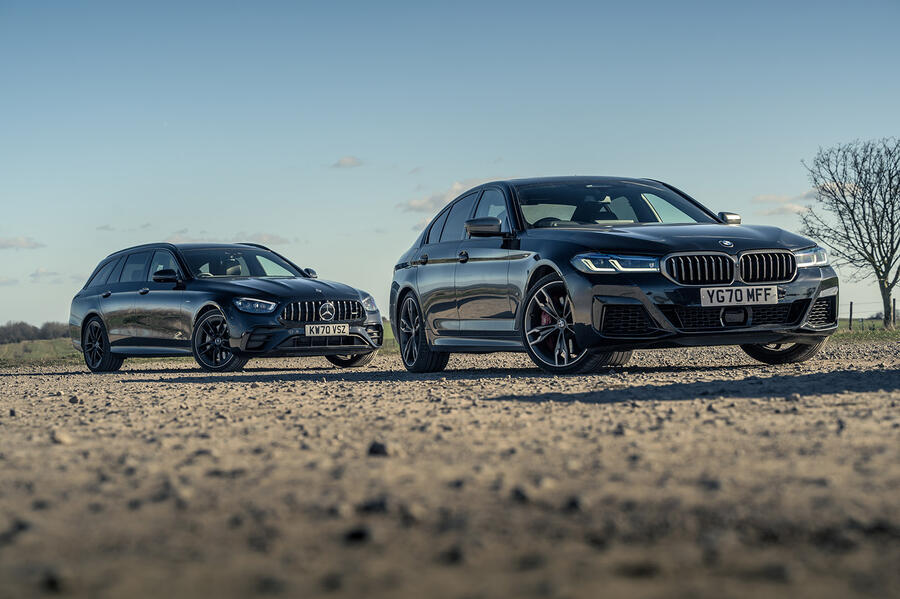 So which interests you more: a second-order, four-wheel drive Mercedes-AMG performance estate car, or a stealthy, slightly understated BMW M550i saloon? These are the sorts of cars that those 'badge delete' order-form boxes were made for. There'd be more badges to remove from the E-Class than the 5-Series though and, thanks to the AMG's sportier styling features, possibly less reason to bother doing so in the first place. The irony? That the slightly more discreet exhaust pipes that the BMW shows to the world are its own; of the more ostentatious set that that AMG touts, it cannot say the same.
The difference between two is clear enough on paper, albeit less so on list price (just £350 separates these test cars). It's the saloon-level dynamic pedigree of BMW against the rich luxury appeal and added versatility of a big, modern Mercedes-AMG wagon. The velvety wallop of the BMW's uncompromising turbocharged V8 (worth more than 550lb ft of torque) against the more subtle (and slightly less profligate- and antediluvian-sounding) petrol-electric straight-six hybrid power on offer in the Mercedes. The standing-start potential for 0-62mph in less than 4.0sec from the 5-Series; or not far off that, plus the cruising economy potential of up to 36.2mpg ('WLTP high' economy cycle), for the E-Class. And of spec-sheet surprises? That, in spite of the hybrid gubbins, it's the E53 that's the lighter of the two cars, and that it's also more than 50mm narrower across the mirrors than the BMW (although it's less than 20mm narrower to the body).
You will know if you're the sort of person who'd feel the need to constantly explain to friends why you went for a notionally subordinate performance car instead of an E63, M5 or even an M3; and if you are, maybe this option isn't for you. But all you really need to know is, with higher mileages, and the really varied, year-round pattern of usage that a 'daily-driven' car might see, an M550i really isn't inferior to any of those cars. It is, in fact, probably the better-sorted, more composed road car in most everyday driving scenarios, having the compliant chassis tune to deal with bumpy B-roads and motorway alike, and never feeling firm or highly strung.
The M550i's 4.4-litre turbo V8 – a motor closely related to the one you'll find in an M5 Competition anyway – wants for absolutely nothing you'd ever be likely to miss during UK road driving. It's got huge reserves of power and torque, a quietly enticing and cultured V8 exhaust note to compliment; and it's a monstrously fast car.
Ride isolation and rolling refinement are very good, although perhaps slightly blunted by the BMW's standard-fit runflat tyres. Steering feel is neutered just a little as you guide the car off-centre, for the same tyre-related reason, I suspect; the unyielding sidewalls of runflat tyres just don't quite load up and flex in the way a conventional tyre would.
The 5-Series' chassis is really well-balanced, though, and its body control can be adjusted from pillowy and absorbtive to closely tied down with the adjustable driver modes. So when you want it to feel like a mini-M5, the M550i xDrive can (although more like an old V8-powered 'E39', predictably, than any since). But it needn't feel like that on a midnight return from the airport, or on the weekend family jaunt to visit Grandma, if you don't want it to. This is, in short, a modern fast BMW like they used to be; one that, as a road car, simply offers more.
Mercedes-AMG's E53 has a better all-round visibility and a less sunken driving position than the BMW. For interior ambience, it's the more flashily luxurious and tech-laden car, too, thanks to its domineering side-by-side digital instrument screens, and all of the chrome trim and leather around the cabin. The BMW's driving position is better, but the Mercedes' is almost as comfortable and easier to access.
And here's another surprise: to drive, the E53 actually has the sharper turn-in of the two cars. It has equally dependable mid-corner lateral grip, and the kind of any-weather traction that makes the modern performance cars work all year round. In outright terms, the E53 feels softer-sprung, though. It rolls harder and to slightly greater angles than the M550i, and it seems to rotate more slowly through the apex as it corners than the fundamentally better-poised 5-Series does, its throttle-on balance being that bit less sweet than the BMW's also.
Then there's the E53's six-cylinder hybrid powertrain, which you'll want to like for all sorts of reasons. In the end, though, you'll probably have to concede that it isn't nearly as convincing as the BMW's wonderful V8. The AMG engine revs keenly and smoothly, as straight six engines famously can; although it doesn't always sounds as great as it should. Don't get me started on explaining how we can be pitting a Mercedes-AMG with a straight six engine against a BMW M car (of a kind) with a V8 in it. And yet, here we are. And for accessible torque the AMG's electrified six-pot feels quite a long way adrift of the BMW's mark, and its nine-speed gearbox isn't quite as convincing as the BMW's eight-speeder either in its capacity to 'pick and stick' with a well-chosen ratio either.
Does real-world touring economy make up the difference? Well, it wouldn't for me. In mixed use, the M550i is a thirsty thing likely to average 25mpg at best – but, on the basis of what it did on loan with us, the E53 would likely only hit 28- to 30mpg itself.
In all honesty, a BMW M550i xDrive Touring ought to be the winner of this test, but since BMW doesn't make one I'd take the saloon very happily indeed. In fact, with £75,000 to spend on a fast executive four-door, I'd have a very hard time choosing between the M550i xDrive and a four-wheel drive M3 Competition, I must say. A rear-driven M3 might just about get the nod; but if you need the security of four-driven wheels (though it's quite a different ownership prospect) I think I'd get more use, and probably at least as much cumulative driver enjoyment, out of the 5-Series.
And for me, deciding between that M550i and a full-fat, six-figure BMW M5 Competition is an easier call; I'd take the 'lesser' M550i every time, and I'd use it every chance I got. You can't say quite the same for an E53 over and E63 S because, in that case, the V8 E-Class is actually every bit as comfy and sweet-riding as the six-pot (they share the same suspension). What's more, the monumental grunt of the '63's V8 might be worth the premium all on its own.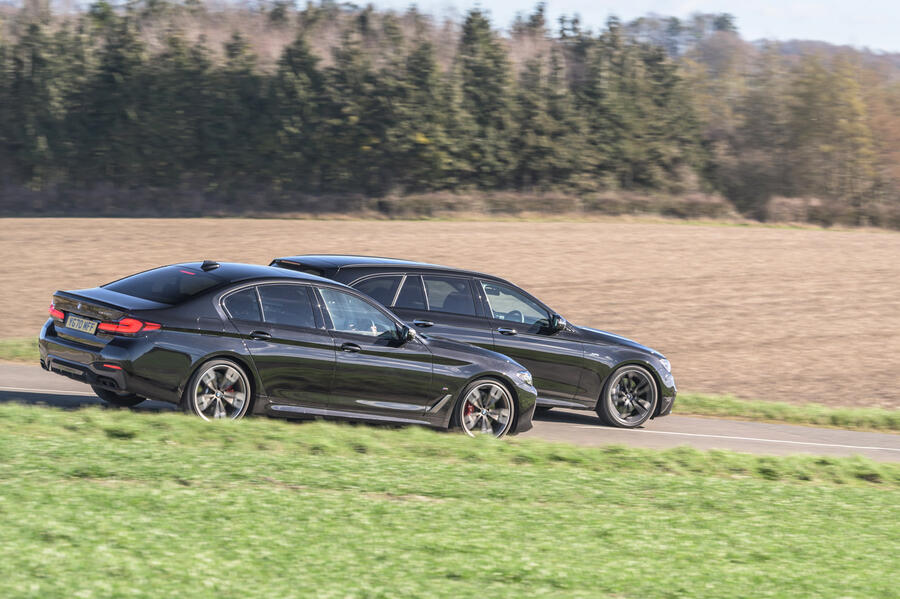 Winner: BMW M550i xDrive Saloon, 4.5 stars
Combines comfort, refinement, performance, real-world body control and driver reward like an M5 of old; and at a price an M5 buyer of twenty years ago might recognise. Stellar.
Price £71,365 Engine V8, 4395cc, twin-turbocharged, petrol; with 48v mild-hybrid assist Power 523bhp at 5500-6000rpm Torque 553lb ft at 1800-4600rpm Transmission 8-spd automatic; four-wheel drive Kerbweight 1990kg 0-62mph 3.8sec Top speed 155mph (limited) Economy 26.6mpg CO2, tax band 243g/km, 37%
Second: Mercedes-AMG E53 4Matic+ Night Edition Estate, 3.5 stars
The idea of a modern, petrol-electric super-estate appeals more than this particular reality. Fast and capable, but not as engaging – or as dramatic - as it might be.
Price £71,015 Engine 6cyls inline, 2999cc, twin-turbocharged, petrol; with 48v mild-hybrid assist Power 429bhp at 5500-6100rpm Torque 384lb ft at 1800-5800rpm Transmission 9-spd automatic; four-wheel drive Kerbweight 1950kg 0-62mph 4.5sec Top speed 155mph (limited) Economy 29.7-29.4mpg CO2, tax band 219g/km, 37%